Kogene provides a powerful solution
for a molecular diagnostics

Clinical Dx
PowerChek™ TB/NTM Real-time PCR Kit series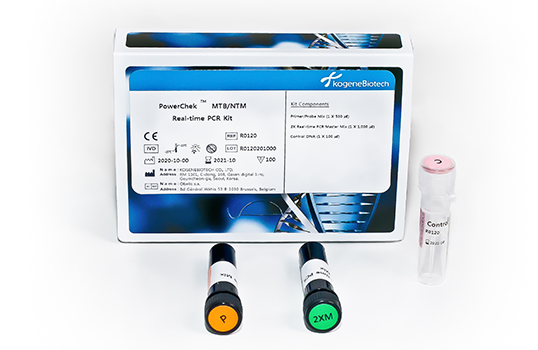 The differentiation of Mycobacterium tuberculosis (TB) from non tuberculous mycobacteria (NTM) is of primary importance for infection control and choice of antimicrobial therapy.
PowerChek™ TB/NTM Real-time PCR Kit series is designed to simultaneously detect the specific genes for TB and NTM using multiplex Real-time PCR assay. This kit allows for the qualitative detection and discrimination of TB and NTM directly in clinical sample and culture.
As this product is Medical Device, please read 'caution' and 'instruction' before use.
Features
Total solution kit ; From extraction to detection
Highly sensitivity & specificity
Compatibility – Flexible open system
Easy to use
Components
Primer/Probe Mix
Real-time PCR Master Mix
Control DNA
Kit Manual
Result
Product List
Related Product