Kogene provides a powerful solution
for a molecular diagnostics

SARS-CoV-2
PowerChek™ 2019-nCoV Real-time PCR Kit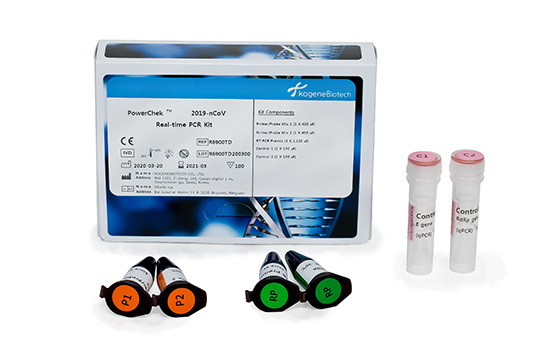 The 1st EUA by Korea CDC, MFDS | US FDA EUA approved | CE-IVD
PowerChek™ 2019-nCoV Real-time PCR Kit provides the fast and accurate testing solution for COVID-19, targeting the E gene for Sarbecovirus and the RdRp for COVID-19 specifically. KogeneBiotech is engaged with relevant organizations in Korea, to supply the test kits and offer additional respiratory viral detection solutions for diagnosis by exclusion.
Analytes : Sarvecovirus (E gene), SARS-CoV-2 (RdRp gene), IC
Features
Accurate confirmation & pool tests
Highly sensitivity & specificity
Including all necessary reagents
Easy to use
Components
Primer/Probe Mix
RT-PCR Premix
Control
Kit Manual
Result

Product List
Related Product
Note
PowerChek™ 2019-nCoV Real-time PCR Kit has not been FDA cleared or approved. This test has been authorized by FDA under an emergency use authorization for use by authorized laboratories. This test has been authorized only for the detection of nucleic acid from SARS-CoV-2, not for any other viruses or pathogens. This test is only authorized for the duration of the declaration that circumstances exist justifying the authorization of the emergency use of in vitro diagnostic tests for detection and/or diagnosis of COVID-19 under section 564(b)(1) of the Act, 21 U.S.C. § 360bbb- 3(b)(1), unless the authorization is terminated or revoked sooner.